Apple is now the biggest watchmaker in the world, overtaking Rolex during the last quarter. This achievement happened less than two and a half years after Apple entered the watch market. Rolex, on the other hand, was founded in 1905, 112 years ago at a time when watches were the avant-garde of technology. Given this revelation of sales, we can test the estimates I put forward on the Apple Watch sales, shown below: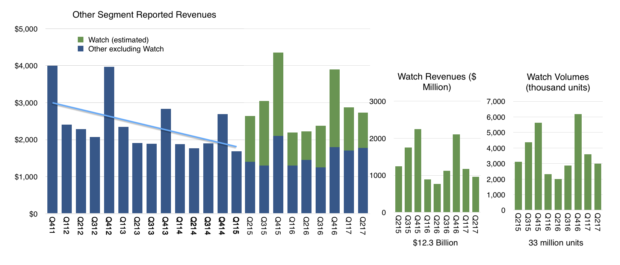 We know that Rolex produces about 1 million watches a year and we also know that Rolex had sales of $4.7 billion in 2016. The average revenue per watch[1] was therefore about $4,700.
My estimate has been that Apple sold about 15 million Watches in the last 12 months at an average price of about $330. This puts the Apple Watch revenue run rate at $4.9 billion, indeed above Rolex.
They may be slightly high but the news makes me feel quite comfortable in my methodology. Note also that within the last quarter Apple said sales for the Watch increase by 50%. This is also reflected in my estimate of 3 million in Q2 vs. ~2 million for the 2016 Q2.
Overall, about 33 million Apple Watch units have been sold since launch and they generated about $12 billion in sales. Coupled with a 95% customer satisfaction score, altogether, this has been a great success story. But with only 2.5 years in, it's still act one.
To understand the long term trajectory, it's important to qualify this product as part of another, larger story. The Watch, even with LTE, is an accessory to the iPhone. It still cannot be activated without it. Even the coverage plan is an extension to an iPhone plan. The company is careful to address it as a companion product.
But how long will that last?
It used to be necessary to first attach an iPhone to a computer to activate it. That used to be cited as a reason for the iPhone not being a "proper computer", diverting attention from what it actually it would inevitably become. Those who clung to that thin wire as a reason not to face the future were deceived. The iPhone and the iPad now stand alone of any PC or Mac. Will the Watch cut these familial links and stand alone some day?
I think this too is inevitable. The technology trajectories are easy enough to plot. Apple has invested enormously in the silicon that goes inside the Watch and has taken it to new levels of connectivity with LTE, 85% faster wifi and with a 70% faster processor and all with 50% more power efficiency.
These enable independent voice keypad, Siri everywhere, Find my friends, Maps, music streaming. These breakthroughs are only possible with a new W2 processor which is more powerful than the first iPhone processors.
This comparison is apt: the Watch is effectively stealing usage from the iPhone. At first it took alerts, timekeeping, and basic messaging away. Now it's taking basic phone calls and music and maybe maps.
It's fitting therefore to remember how the iPhone was launched; as a tentpole troika: A wide-screen iPod, an Internet Communicator and a Phone.Today the new Watch is a small-screen iPod, an Internet Communicator and a Phone.
So not only is the Series 3 Watch more powerful than the original iPhone but it is also poetically capable of the same tentpole jobs. But it's not just a miniature iPhone. it has a new, completely orthogonal attack on non-consumption and market creation: fitness and health. This is a key point. The iPhone was born a phone but grew up to be something completely unprecedented, unforeseen by its creators and, frankly, undescribable in the language of 2007.
The Watch was born a timepiece but it is traversing through the early iPhone and pulling in a new direction all of its own. The fact that we are talking about "Resting Rate", "Arrhythmia" and "Atrial fibrillation" at a timekeeping launch event indicates that new behaviors will follow and so will the language we'll use to describe this child-like product once it grows up.
Notes:
Includes services such as repairs